Mar 12, 2021
As Hoosier History Live salutes Women's History Month, we will explore a range of aspects associated with women who have served in the Indiana General Assembly and as state and federal officials from the Hoosier state.
What questions have been asked of women candidates for public office that have not been posed to their male counterparts? What's been the percentage of female lawmakers at the Indiana Statehouse? Why has Indiana's lieutenant governor frequently been a woman during the last 20 years, but a woman never has served as governor?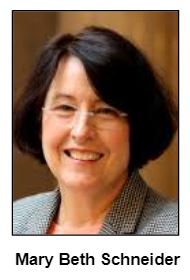 Not only will we delve into those questions, we even will look at the number of women honored with statues and marble busts at the Indiana Capitol Building, compared with those that commemorate men.
The latter issue was the focus of a column a few years ago by the acclaimed, retired political journalist who will be Nelson's guest in this show on women's history in Indiana. Beginning in 1991, Mary Beth Schneider covered every session of the General Assembly for the Indianapolis Star until 2013. She also covered national political conventions, presidential debates and the caucuses and primaries in Iowa, New Hampshire and other states.
During her career at the Star, which began in 1979, Mary Beth covered a variety of other beats and served as an assistant city editor; in 2019 and 2020, she wrote a weekly political column and edited stories for TheStatehouseFile.com, a news service run by Franklin College students.
According to state legislative records, women lawmakers make up about 21 percent of the current General Assembly. Of the nine members of the U.S. Congress from Indiana, two are women. Since 2003, when Gov. Joe Kernan appointed Kathy Davis, a Democrat from Indianapolis, as the first women lieutenant governor in Indiana's history (her successor, Becky Skillman, a Republican from Bedford, became the first woman elected to the position, serving two terms under Gov. Mitch Daniels), the state's No. 2 post has been held by a woman except for about nine months in 2016. That's when current governor Eric Holcomb had the job.
Not only hasn't a woman ever served as governor of Indiana, a woman has never been mayor of the state's largest city. Since 1995, three women have been nominated by the major political parties for mayor of Indianapolis, but all of them were unsuccessful. In 1999, Sue Anne Gilroy, a Republican, was defeated by Bart Peterson. Melina Kennedy, a Democrat who was deputy mayor under Peterson, lost her mayoral campaign in 2011 to incumbent Greg Ballard. Back in 1995, Z. Mae Jimison, a Democrat, also lost to the incumbent mayor, Steve Goldsmith.
When Gilroy ran her campaign for mayor, she was serving as Indiana's secretary of state. The current secretary of state also is a woman. Last month, Connie Lawson, a Republican from Hendricks County, announced she will be stepping down to, in her words, "focus on my health and my family."
Lawson, who has been in the post since 2012, is the longest-serving secretary of state in Indiana history. Before becoming secretary of state, she served for 16 years in the Indiana Senate. In 2006, Lawson made history by becoming the first woman to serve as a majority floor leader in the senate.
Some history facts: