Jul 5, 2019
(June 29, 2019) It's a suburban boomtown continually in the spotlight because of developments like the opening in 2017 of the first Ikea store in the state.
So who today would guess that Fishers, located in Hamilton County, had a reputation for lawlessness, gun fights, grave robberies and drunken brawls in the years after it was founded during the 1870s?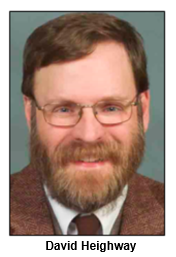 To explore the violent early history of Fishers - which shed the designation of town to assume official status as a city only in 2014, after years of explosive growth - Nelson is joined by David Heighway, Hamilton County's historian, in this encore show originally broadcast in 2017. Based on his extensive research, David has several explanations for why the town was so rough-and-tumble in the years after it was founded in 1872.
Even Fishers' nickname of Mudsock has violent origins: a melee known as "the Battle of Mudsock" made national news in 1881, one month after the infamous Gunfight at the O.K. Coral(in Arizona) when, according to David, the public was paying close attention to violent incidents.
"If you've seen the movie Tombstone or the TV series Deadwood - that was what Fishers was like," David contends.
He has posted several blog entries about Fisher's violent early years on a weekly blog of the Hamilton East Public Library, where he works in collection services.
Much of the blame for the Wild West early years of Fishers, David says, falls on "the loose political structure of the town," which encouraged lawlessness. As a railroad depot (the community early on was known as Fishers Station), Fishers was located near several towns with strict temperance laws and ordinances.
"So if someone wanted to raise a little hell," David says, "they would go to Fishers."
A native Hoosier and a descendant of Indiana pioneers, David is on the board of directors of the Hamilton County Historical Society and serves on the Noblesville Historic Preservation Commission.
According to an article David wrote for the Hamilton County Business Magazine, the Battle of Mudsock in November 1881 was a "community-wide brawl" that left one dead and 32 wounded. A fistfight escalated into an "explosion of violence."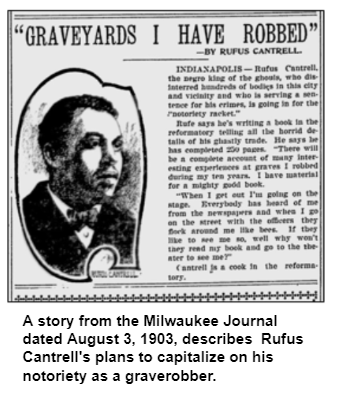 During its early years, lawlessness in Mudsock - i.e. Fishers - persisted in part because the town apparently had few, if any, law enforcement officers, David says.
Grave robbing in the Fishers area circa 1900 was an extension of "body snatching" problems in Indianapolis, which was the epicenter of a major national ring led by Rufus Cantrell, who was known as the "King of the Ghouls."
Cantrell and his accomplices, who may have included a physician born in Hamilton County in 1859, supplied corpses to early medical schools desperate for bodies to use in teaching students. In one of David's blog posts about the grave robbery problems, he describes how Cantrell testified in court against the physician from Hamilton County.
Other crimes in early Fishers included "train wrecking," robberies in which desperadoes placed ties or other obstructions on railroad tracks. When approaching trains would crash or overturn, the criminals would loot the wreckage.
In the 1880s, when the Monon Railroad line opened in the western part of Hamilton County - the opposite end from Fishers - violence in the town began to decline, according to David. He adds, though, that a pool hall located in the back of a Fishers hardware store was demolished by a dynamite explosion in 1914.
"By the end of World War I," he notes, Fishers "had begun to settle into a quiet farming community."