Jan 7, 2019
For its final show of the year, Hoosier History Live has established a tradition that, while not as time-tested as Champagne toasts and renditions of "Auld Lang Syne," is enlightening, enjoyable and reflective.
We take the opportunity to look at various dining trends, restaurants and nightspots - bygone, current and recently revived - with two of our favorite in-studio guests. This time, we also take a history plunge into the ways New Year's Eve and New Year's Day were celebrated during previous eras, and look into some of the settings for the revelry as well.
Nelson's returning guests are:
Jeff Kamm, the Carmel-based author of Classic Restaurants of Indianapolis (The History Press, 2016). Early in his career, Jeff spent several years working in the hospitality industry. He has written about the history of New Years dining in Indianapolis for the Historic Indianapolis website.

And Terry Kirts, the dining critic for Indianapolis Monthly magazine. Terry also is a senior lecturer in creative writing at IUPUI.
Noting the recent openings of Geraldine's Supper Club and the Inferno Room tiki bar, both in the bustling Fountain Square neighborhood of Indianapolis, Terry shares insights about "trends from the past that people are loving now and why," as he puts it.
Nightspots from the past that we spotlight include the now defunct Sheffield Inn, a hotel and nightclub in downtown Indy famous during the 1960s for its New Year's Eve revelry. Our guest Jeff Kamm notes that the Sheffield Inn building still stands in modified form in the 900 block of N. Pennsylvania St., although it now houses a service organization for military veterans.
During our show, we have a phone-in report about a supper club/nightspot in Marion, Ind., that burned to the ground 60 years ago this month. Ed Breen, a former editor of the Marion Chronicle-Tribune who now hosts a weekday radio news show, will discuss the rollicking history of Miller's Supper Club, which opened a few months after Prohibition ended in late 1933.
The Black Curtain wasn't a supper club - it was a dinner theater in the 2100 block of N. Talbott Street in Indy - but its history as a popular nightspot also will be on our menu. As Jeff notes in Classic Restaurants of Indianapolis, the Black Curtain offered musical entertainment (like the supper clubs) along with other performances. From 1968 until 1980, the dinner theater anchored an area of the Hoosier capital that was then becoming known as "bohemian."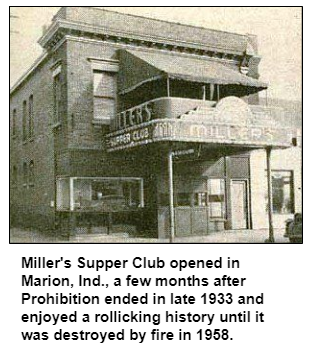 Before that era - and continuing to this day - Chinese restaurants have advertised extensively about being open on New Year's Day. Jeff's book describes the evolution of Lotus Gardens, beginning in 1953 with the opening of a restaurant near E. 46th Street and Keystone Ave. At one point, Lotus Gardens had three locations in the metro area; only its restaurant in Greenwood remains. When the restaurant opened in the early '50s, Lotus Gardens house specialties included Cantonese lobster chow mein and chicken chop suey.
"Not surprisingly for 1950s Indianapolis," Jeff writes, "the number one menu item was roast beef."
Jeff's article about historic New Year's Eve and Day celebrationsincludes a description of what was probably the first such event in Indianapolis, which was laid out in 1821. On New Year's Day 1822, everyone in the new state capital - the city had fewer than 2,000 residents at the time - received a handwritten invitation to festivities at a tavern. The event kicked off at 12 noon with a hearty meal, followed by hours of dancing. According to Jeff's research, the primary beverage served was "strong, black coffee," although liquor could be purchased for 25 cents.
Listeners call in earlier than usual during this show to share memories of bygone dining establishments or comments about trends that are being revived.