May 21, 2021
Never mind that he's done videos about historic sites in nine other states. Home turf for the creator of the multimedia project History in Your Own Backyard is Indiana.
With a motto that advises motorists to "travel slowly and stop often," Satolli Glassmeyer has ventured from his home in the small Indiana town of Sunman in Ripley County to make short documentary videos about historic locales across the state. His subjects range from so-called "phantom" bridges and towns so small they don't have a single stoplight to a former movie theater that now houses the city hall in Rushville and a YMCA built in Greensburg in 1915 that's been renovated into senior apartments.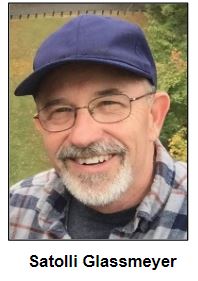 And then there's Howe Military Academy, the prep boarding school that opened in the 1890s in LaGrange County and closed in 2019.
They are among the sites that Satolli will discuss when he joins Nelson to explore destinations featured on History in Your Own Backyard, a project that includes a YouTube channel, a newsletter and an extensive website.
He's particularly intrigued by phantom bridges, which, Satolli explains, are located on "ghost roads," i.e. county roads that have been closed or are no longer maintained. Many now are on private property.
During our show, Satolli will share insights about phantom bridges in Indiana that are particularly noteworthy, including the Triple Whipple Bridge near Aurora, nicknamed "the Queen Mary of all bridges." Built in 1878, the Triple Whipple spans a creek in Dearborn County and is the only bridge with its distinctive design that is still standing in the country.
With Satolli as our guide, we also will explore the phantom bridges at the Jefferson Proving Ground, the munitions testing facility near Madison that was established in a wooded area during the World War II era. At the proving ground, which was closed in 1995, Satolli was escorted by security officials to view the bridges (which are off-limits to the public) and see other historic sites.
A more typical phantom bridge, the Sparks Ferry Bridge that spans the East Fork of the White River in Jackson County, is the focus of one of Satolli's newest History in Your Own Backyard videos.
He also has featured the Princess Theatre in downtown Rushville, a cinema house built in 1915 that closed after more than 100 years. The building, still often called "the Princess" by locals, has been renovated and reopened as a city center, with the mayor's office on an upper floor that has ceilings 20 feet high.
Also in Rush County: scenic East Hill Cemetery, which Satolli notes is the burial site of 1940 Republican presidential candidate Wendell Willkie. Created in the 1850s with a "garden cemetery" design concept, East Hill was planned by a Prussian immigrant who had been the head gardener for one of the czars, according to History in Your Own Backyard.
Towns without a single stoplight that have been the focus of our guest Satolli Glassmeyer's videos - and that we will explore during our show - include Saint Paul (Decatur County), once the site of a major goldfish farm, and Dillsboro (Dearborn County), where a sanitarium was patronized by guests who savored its mineral waters and spas.
A former sheet metal worker, Satolli says he became fascinated by historic sites during weekend bicycle trips from his home when he was a teenager. His long cycling ventures, up to 100 miles round trip, would take him to neighboring towns, "where I began to fall in love with the buildings and bridges constructed in the late 1800s and early 1900s."