Aug 27, 2021
During the decades when Indianapolis and its downtown were far from vibrant, Naptown was frequently used - along with "India-NO-Place" - as a derisive nickname for the lackluster Hoosier capital.
But the actual origin of the Naptown nickname is much different than the negative connotation it later came to have, and the original intent was not to insult or disrespect the city, according to Steve Barnett, Marion County Historian.
Steve says the nickname was coined during the 1920s by African-American jazz musicians and performers who visited Indianapolis. As a creative and even affectionate way to refer to the city, they began stressing the fourth syllable in the city's name, and that usage of "Naptown" was picked up by GIs stationed in the city during World War II.
In addition to serving as a board member of the Marion County Historical Society, Steve is the executive director of the Irvington Historical Society, and will be Nelson's guest to discuss the history and evolution of nicknames for the Hoosier capital. They have included Indy (by far the most popular in the 21st century), Circle City, Crossroads of America, Amateur Sports Capital and, during the 19th century, Railroad City.
Steve also will share insights about historic nicknames for neighborhoods in the Hoosier capital. These monikers - some of them discarded decades ago - have included Stringtown, Vinegar Hill, Cottontown, Irish Hill, the Levee and Brickville.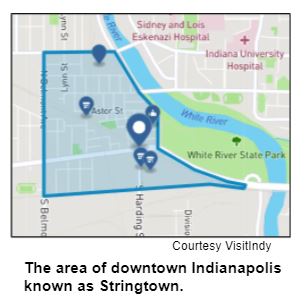 Stringtown continues to be used to describe a neighborhood across the White River just west of downtown. With the coming of the National Road (now U.S. 40) to Indianapolis during the 1830s and the building of a bridge across the river, many houses were "strung" along both sides of the roadway, according to Steve's research.
As Indianapolis grew during the 19th century, neighborhoods often were given nicknames by the police "for easy identification," Steve says.
Some nicknames for the city benefited from a push by civic and business leaders. In 1926, the Indianapolis Chamber of Commerce adopted "Crossroads of America" as the organization's promotional nickname for the Hoosier capital, according to a column Steve recently wrote for the Weekly View, a newspaper that covers the eastside.
During the early 1970s, when "Naptown" had become widely used as a disparaging term, civic leader Frank McKinney Jr. announced an advertising campaign intended to promote "Indy," according to Steve's column. By that point, "Indy" already had been adopted by race drivers, mechanics and other auto enthusiasts. McKinney, a bank president, expressed the hope that broader usage of the nickname would "polish the image of the city."