Mar 1, 2019
(February 23, 2019) For several decades, each mayor of the Hoosier capital has had a relationship with the University of Indianapolis once his term in office has ended. Greg Ballard, who was elected to two terms as mayor of Indianapolis, is no exception; he currently serves as a Visiting Fellow at UIndy.
On this show, former Mayor Ballard describes his new role, reflect on his terms as mayor (which followed an unexpected victory in the 2007 election) and talks about historic aspects of one of his major areas of focus - electric cars - when he joins Nelson as studio guest.
Indiana-related aspects of electric car production involve modern history: During the 1990s, crucial components of General Motors' EV1, described as "one of the most technologically advanced" and fuel-efficient vehicles of the 20th Century, were made in two Indiana cities. A Delco Remy plant in Anderson produced the motors. The battery packs were made in Muncie, also at a Delco Remy factory.
The need to shift from oil as the primary transportation fuel is the focus of Less Oil or More Caskets (IU Press), a new book by former Mayor Ballard, who draws on observations from his 23-year career as a U.S. Marine, which included serving in the first Persian Gulf War.
In 2013, while serving as mayor, Greg Ballard was our studio guest to discuss historic connections between the Marines and the Hoosier state. He also shared insights about attending Cathedral High School (where he was a member of the Class of '72) during its final years as an all-male school located in downtown Indy.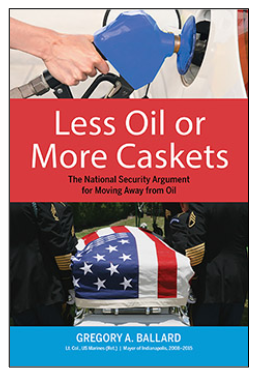 This time, former Mayor Ballard, a Republican, assesses his terms in office, including accomplishments and frustrations.
Documents, oral interviews and artifacts of former mayors are housed at UIndy's Institute for Civic Leadership & Mayoral Archives. Several former mayors, including Ballard's predecessor, Bart Peterson, a Democrat, have served on UIndy's board of trustees (Former Mayor Peterson was Nelson's studio guest on a show in 2015).
The history of electric cars stretches much further back than the 1990s production of the EV1. Early electric vehicles - powered by a battery charged by plugging it in - were built circa 1900 at the dawn of auto production.
As Ballard describes in his book, the challenges then involved the limitations of the vehicles; in the early 1900s, electric cars only could travel about 20 miles before requiring a recharge, severely limiting their range compared to gasoline-powered automobiles.
With substantial improvements in battery technology since that time, electric cars have made significant gains in range and efficiency. Less Oil or More Caskets is being promoted as a call to action to shift from gasoline to electricity in transportation, which former Mayor Ballard calls "the last industry dominated by the use of oil."
Blue Indy, an electric car-sharing program with a fleet of vehicles and charging stations across Indianapolis, is a visible legacy of the Ballard administration. As mayor, he struck a deal with a French company, Bollore, to bring the electric car service to the Hoosier capital.
Billed as the "first of its kind" in the country, Blue Indy was unveiled in 2014, with the all-electric cars showing up in designated, charger-accessible parking spaces the next year. Controversy ensued, with businesses and homeowners complaining that neighborhoods were not consulted about the loss of parking spaces that were given over to the electric cars and their charging stations.
Since then, the city has renegotiated some aspects of the Blue Indy contract, but critics continue to question the public demand for the car-sharing program and its benefits to the city.
In Less Oil or More Caskets, former Mayor Ballard traces his enthusiasm for all-electric vehicles to his stint as a Marine based in the Middle East. During a recent appearance on the syndicated TV show Inside Indiana Business, the former mayor said, "Eighty percent of the world's oil reserves are in the hands of monarchs." The United States, he added, only has 2 percent of the world's oil - meaning conversion to other sources of energy is crucial for economic as well as environmental reasons.
Greg Ballard grew up on the eastside of Indianapolis and attended Cathedral on a scholarship. He graduated from Indiana University before his 23-year career in the Marines, retiring in 2001 as a lieutenant colonel.