Feb 26, 2021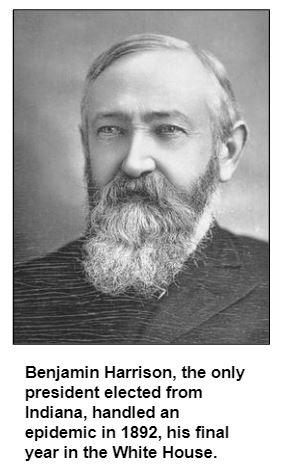 For another show in our periodic series that offers listeners an opportunity to call with questions about Indiana's heritage, our host, author and historian Nelson Price, will be joined by Charlie Hyde, CEO of the Benjamin Harrison Presidential Site.
In between phone calls from listeners, Nelson and Charlie will interview each other about an array of topics, including how Benjamin Harrison, the only president elected from Indiana, handled an epidemic in 1892, his final year in the White House. Because of the Covid-19 pandemic, the 1892 cholera epidemic has been the focus of recent articles in the national press.
During our show, Charlie will explain how President Harrison responded when a ship from Hamburg, Germany, one of the epicenters of the epidemic, was en route to the United States. The cholera epidemic began in April 1892 in India and quickly spread to Europe, all while Harrison was dealing with a health crisis in his own family: First Lady Caroline Scott Harrison was gravely ill with tuberculosis and would die later in 1892 in the White House.
In between insights from Charlie and Nelson about this episode and others, listeners are invited to phone the WICR-FM (88.7) studio at 317-788-3314 and pose questions about any aspect of the state's history; typically on Hoosier History Live, questions from listeners are limited to the final 20 minutes of the show.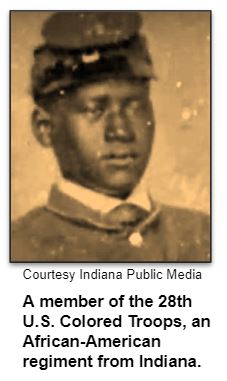 As we continue to salute Black History Month, Nelson will also discuss the 28th U.S. Colored Troops, an African-American regiment from Indiana during the Civil War. Even before the regiment was formed in 1864, Black soldiers from Indiana had been fighting for the Union Army in an infantry unit from Massachusetts; that legendary regiment was depicted in the movie Glory (1989) starring Denzel Washington.
Benjamin Harrison (1833-1901), who became a brigadier general during the Civil War, initiated attempts during his subsequent political career to expand civil rights for African Americans; Charlie will describe these attempts during our show.
Charlie also will discuss the reaction in Indianapolis in 1888 when Harrison, a Republican, was nominated as a presidential candidate. It is the focus of a current exhibit at the presidential site titled The Night Indianapolis Roared.
Another topic during our show will relate to the recent dedication in Carmel of a sculpture and interactive kiosks in honor of Hoagy Carmichael (1899-1981). The famous composer, who grew up in Bloomington and Indianapolis, is profiled in Nelson's book Indiana Legends, 4th edition (Hawthorne Publishing, 2005). Nelson had several interviews with Hoagy's son, Randy Carmichael, who died in 2018; Randy had been a Hoosier History Live guest seven years earlier. The sculpture and kiosks honoring Hoagy are near the Center for the Performing Arts, which includes the Great American Songbook Foundation.