Oct 4, 2019
(September 28, 2019 ) As is clear from the popularity of the PBS show Finding Your Roots, and from the high volume of visitors to the website ancestry.com, many Americans are interested in learning about their family history. And with the advent of personal DNA analysis from services such as 23andMe and AncestryDNA, more and more individuals are learning about the admixture of ethnicities in their genetic heritage, as well as discovering possible matches for unknown blood relatives who have undergone DNA testing themselves.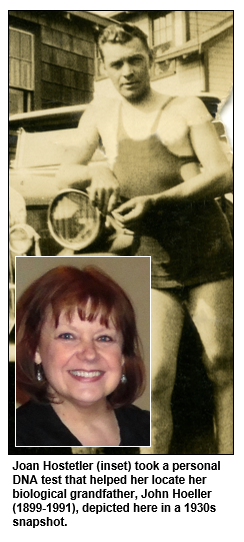 But these tests have raised thorny questions. What does our genetic information tell us about ourselves? If we use online sleuthing to contact relatives revealed by the DNA tests, should we consider them family? What if they would rather not have heard from us? And what if we learn that the race or ethnicity revealed by our DNA is different than the one we had always identified with? Does the newly available genetic information outweigh culture, tradition and family lore in our sense of who we are?
In this Hoosier History Live show originally broadcast in 2017, we examine what personal DNA testing reveals about ourselves and our shared history. Guest host and associate producer Mick Armbruster interviews three Hoosier women who have recently conducted a personal DNA analysis that yielded surprising results. Mick's guests in studio are:
Joan Hostetler, a photo historian and founding director of The Indiana Album. She had her DNA analyzed in 2015 and learned some surprising things about the ancestry of her mother, who had been adopted as an infant in 1927. Joan's mother knew only that she had been born in Fort Wayne, Ind., and that her birth mother, Joan's biological grandmother, had identified herself as a musician and requested that the baby she was giving up eventually be given piano lessons.

Despite years of searching, Joan and her mother were unable to learn the names of Joan's maternal biological grandparents before Joan's mother passed away in 2005.
Becky Hostetter, a vegetarian chef and co-owner of Duos Indy. Her genetic testing connected her to a long-lost half sibling; as Becky had known for years, her mother had gotten pregnant while serving in the Women's Army Corps during WWII at Camp Ritchie, Md., and had given the baby up for adoption.
In the 1970s Becky and her mother attempted to find the adopted sibling, but to no avail. What little information they had about the person could be summed up on a 3x5 index card: Female, weighed less than 6 lbs. at birth, reddish hair and born May 30, 1946, in a military hospital in New Hempstead, N.Y.

Becky's 2015 DNA test eventually led to locating this long-lost sister and a joyful reunion (including Becky's three other sisters) in 2017. But that wasn't the only surprise: Becky's DNA testing exposed other family secrets about her biological parentage and ethnic heritage.