Aug 28, 2020
Amid the celebrations of the 100th anniversary of women's voting rights this month, it's important to acknowledge the arduous, decades-long struggles that were involved in reaching that historic milestone.
It's also important to dispute myths about the women's suffrage movement that have persisted ever since the 19th Amendment became official on Aug. 26, 1920.
Hoosier History Live will challenge several of the myths during the next show in our periodic series about the suffrage movement in Indiana. Anita Morgan, author of the recently released book, We Must Be Fearless: The Woman Suffrage Movement in Indiana (Indiana Historical Society Press) will be Nelson's guest to discuss the misconceptions that have endured. Anita, a native Hoosier, is a senior lecturer in history at IUPUI.
Among the myths that she plans to challenge: the misconception that the suffrage movement in the Hoosier state primarily consisted of, as she puts it, "white, Protestant, middle-class women." Although African-American and Jewish women may have been excluded in other states, Anita's book describes their activist roles in Indiana from the beginnings of women's suffrage in the 19th century.
Legendary entrepreneur Madam C.J. Walker hosted a meeting of an African-American suffrage group at her home in Indianapolis, with public school teachers taking leadership roles. One of the teachers, Francis Berry Coston, also used her position as a literary critic for The Indianapolis News to urge African-American women to vote.
In addition to Indianapolis, African-American chapters of suffrage organizations formed in Marion and Muncie, according to We Must Be Fearless. The book also describes the activism undertaken by the Terre Haute Council of Jewish Women and counterpart organizations in other Indiana cities.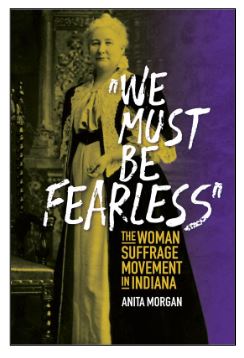 Another myth, according to Anita Morgan, is that "once women had the vote, they did not use it." Anita points to research documenting impressive turnouts of women voters in the 1920 and 1924 elections, both in Indiana and nationally. She also notes that suffragists in Indiana set up "suffrage schools" so women could learn about the "mechanics of voting" and the various offices on the ballots.
History fact: Clear back in 1909, women ran for school boards in Indianapolis and Terre Haute, the only cities in the state with elected school boards then, according to We Must Be Fearless. Both female candidates won, even though they could not vote yet in national and state elections.
During our show, we also will explore myths that Indiana women did not have an impact on the national level. In fact, many Hoosier suffragists, including several Quakers who were at the forefront of the movement here, ended up in national leadership roles.
Others who attained national prominence included Indianapolis educator and civic leader May Wright Sewall, whom we discussed during a Hoosier History Live show in January. We explored suffrage strides, setbacks and the role of Zerelda Wallace, a former Indiana first lady, during a show in March.
Our guest Anita Morgan will be participating in a virtual Suffrage Centennial Block Party at 11 am on Aug. 29. More information about her presentation, which is being arranged by the Indiana Historical Society, is available online. Her presentation is among a series of events this year, with many coordinated by the Indiana Women's Suffrage Centennial Commission.