Jul 19, 2019
(July 13, 2019) During the 1820s, it was a key factor in determining the site of the new city of Indianapolis. But there was a major misconception that became obvious when a steamboat got stuck and became the object of ridicule.
Soon it became an aquatic dumping ground, with complaints about pollution surfacing by the 1880s in both Marion and Hamilton Counties. During the early 1900s, it was the setting for baptism events that involved hundreds of people on Sundays; the practice ended because of typhoid outbreaks.
In the mid-1970s, an Indianapolis-based rock music radio station sponsored hippie-oriented raft races in which competitors paddled aboard discarded sofas, debris and other makeshift watercraft.
In recent decades, however, significant efforts have been undertaken to clean up the White River.
Now, in the wake of the White River Vision Plan recently unveiled by Marion and Hamilton County civic leaders, Hoosier History Live explores all aspects - the good, the bad and the filthy - of the compelling history of the waterway that has been called "an under-utilized community asset." Nelson's studio guests are:
Assumptions that the White River would be navigable as a major trade route were a significant factor when state leaders in the 1820s selected the site of the Indiana's new capital city.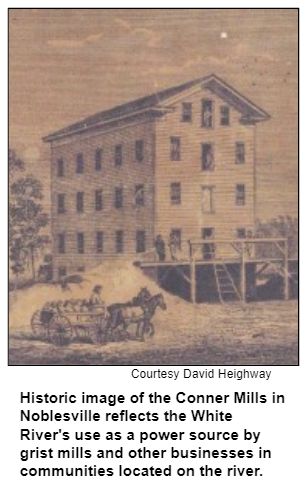 In 1831, a steamboat called the General Hanna (overseen by a Brigadier General Robert Hanna) ran aground near Indianapolis and was left in the river for several months.
The humiliating episode, known as Hanna's Folly, convinced Hoosiers that the river could not handle large ships of any kind.
Near the river's edge just west of downtown Indianapolis, Kingan & Co. opened a huge meat-packing operation in the late 19th century; environmentalists eventually criticized the operation and other industries for using the river as a way to dispose of waste.
"As late as the 1950s, state environmental employees sampling the river using a rowboat would have animal entrails hanging from the oars while there were on the river downtown," according to our guest Kevin Hardie.
Colorful watercraft were seen on the White River during the WNAP Raft Racesthat began in July 1974 and drew thousands of spectators to Broad Ripple Park. Organized by the former WNAP-FM, a radio station popular with young listeners, the raft races were described as "Central Indiana's version of Woodstock."
The White River Vision Plan has been put together to guide decision-making for the next 30 years. According to a recent story published in the Indianapolis Business Journal, the plan encourages the creation of seven recreational "anchor areas" on 58 miles of the White River through Marion and Hamilton counties.