Dec 13, 2019
(December 7, 2019) In the late 1930s, a brutal crime made headlines in Indianapolis as the "Case of the December Bride," so-called not because of the month in which the murder was committed - it happened in January - but rather because of the relative ages of the married couple involved.
The victim, Carrie Romig, who was fatally beaten with a claw hammer, was in her 50s. Her body was discovered in the couple's apartment on West 12th Street by her husband, Harold Romig, who was in his 20s.
A "whodunit" mystery unfolded for weeks as suspicion initially fell on Harold Romig, who insisted that he had been at work in a restaurant in an F.W. Woolworth five-and-dime store when the slaying occurred.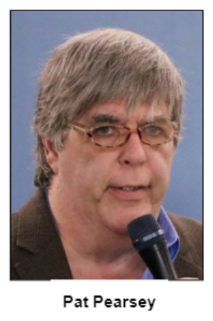 The Case of the December Bride is among the crimes that took place in the Hoosier capital during the early and mid-1900s that we explore during our show, which examines cases that were once considered sensational but are little remembered today.
They are among the array of cases described in a new book, True Crimes in the Circle City, written by Patrick Pearsey, the archivist for the Indianapolis Metropolitan Police Department (IMPD). He was a guest on a recent Hoosier History Live show about Police Department history in Indianapolis.
Patrick, a civilian member of the police department since 1980, is Nelson's studio guest for a conversation focused on how crimes illuminate social history. In some cases, the crimes to be discussed on the show involve police officers who were members of Patrick's family; he is the third generation of Pearseys to work for the department.
His father, Sgt. James Pearsey, was a key figure as a young detective in solving another gruesome murder. In 1946, a 22-year-old nurse working the night shift at Riley Hospital was discovered clubbed to death. Witnesses reported seeing a masked figure lurking in corridors of the hospital.
Despite extensive publicity and exhaustive searches, the crime went unsolved for several years. During our show, Patrickl explains how his father - who wanted to redeem himself with his supervisors because of his involvement in an accident with a paddy wagon - toiled on his own time to solve the case. During the early 1950s, he finally was successful.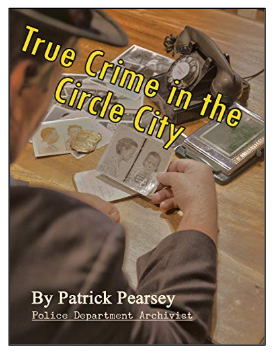 During our show, we also explore a nationally publicized series of episodes in the early 1900s that became known as the "Case of the Dynamiters." In 1909, simultaneous explosions in four places across Indianapolis woke up residents at midnight. Suspicion fell on unions, particularly the Iron Workers.
The local blasts eventually were tied to a series of explosions that had occurred years earlier in Los Angeles and other cities. After charges were brought against 54 union officials for a nationwide bombing campaign, the trial was held in Indianapolis at what is now known as the Birch Bayh Federal Building and U.S. Courthouse.
A fourth case we explore during our show focuses on a moonshiner, Ivan Coy, whose farm near Brownsburg was raided in 1930 during Prohibition. After authorities found a 40-gallon still, Coy was sent to prison. Upon his release, he became a suspect in a burglary and led Indianapolis police on a wild foot chase that involved gunfire in which a police officer was seriously wounded. A car chase followed: Coy forced an innocent motorist to drive him to Martinsville, where authorities spent days searching for him.
For that case and the others that Patrick has included in True Crime in the Circle City, he relied on a variety of sources. Some historic cases investigated by IMPD - along with mugshots, crime scene information and personnel records - are included on a digital collection about the police department's history that has been put together as part of a partnership with the Indianapolis Public Library. Patrick and other IMPD staffers helped with the collection, which launched a few months ago on the library's Digital Indy website.