Dec 11, 2020
Both in population and geographic size, it's the smallest county in Indiana. But it's considered among the most scenic.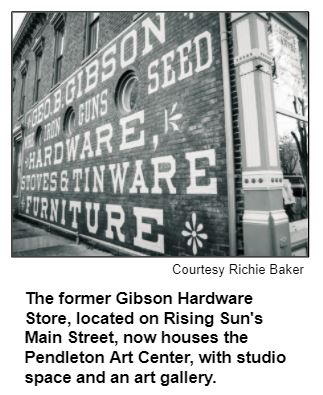 Ohio County, located in the far-southeastern corner of the Hoosier state, along with its only incorporated city, Rising Sun, have a colorful heritage that will be the focus of our show.
One of the few harp factories in the world is housed in a historic building on Main Street in Rising Sun, where Riverfront Park is a popular destination to savor views of the Ohio River.
In the Rising Sun Historic District, the Greek Revival-style Ohio County Courthouse, which was built in 1845, is the oldest county courthouse in continual use in Indiana.
Ohio County historian Cliff Thies, a lifelong resident of Rising Sun, will be Nelson's guest to share insights about his home turf. Cliff is the executive director of the Ohio County Historical Society and the Rising Sun History Museum, which occupies a 20,000 square foot structure that was built in the 19th century as a plow factory.
The harp factory is Rees Harps Inc., which makes and ships harps around the world to symphony orchestras, amateur musicians and a range of in-between enthusiasts. Harps are hand-crafted in a range of sizes and styles, but Rees is particularly known for creating a small, lightweight version they call a Harpsicle. The harp factory was founded by William and Rebecca Rees, who moved from California to Rising Sun after being captivated by the beauty of the riverfront city.
Ohio County also has a heritage in furniture-making that stretches back to the mid-1800s. Also in the 19th century, renowned silversmith Samuel Best moved from Cincinnati to Rising Sun.
So what's the population in 2020 of our state's smallest county?
According to our guest Cliff Thies, the current estimate is 6,128.
Some history facts:
During the 1840s, Ohio County was carved out of neighboring Dearborn County. By then, Rising Sun had long been a daily stop for hundreds of flatboats on the Ohio River. Also early on, the region experienced an influx of German immigrants.
At the history museum in Rising Sun, the most famous artifact is the Hoosier Boy, a wooden powerboat built and raced by J.W. Whitlock, a local furniture maker and inventor. In 1924, the Hoosier Boy set a speed record for a round trip between Cincinnati and Louisville. During our show, guest Cliff Thies will explain why the record set by the Hoosier Boy never can be broken.
Also during our show, Cliff will describe the various explanations for how Rising Sun got its distinctive name. He says some of the accounts are "romantic," but others are not.