Jan 3, 2020
(December 28, 2019) Remember when it was common for dining establishments to offer customers distinctive placemats and other souvenirs as thanks for their patronage?
Those kinds of keepsakes are mostly bygone now, but Terry Kirts, the dining critic for Indianapolis Monthly magazine, has a stash of placemats from Hoosier restaurants. Terry describes the souvenirs as Nelson's studio guest for the final Hoosier History Live show of the year. As per our year-end tradition, the show explores dining trends and establishments: this time around we take a look at restaurants that have closed, those that are anticipated and some that have opened in historic structures.
The latter include Taxman Brewing Co., a pub and beer-garden that has opened in a former livery stable in the Cityway area on downtown Indy's south end. As Terry reported in an article for Indianapolis Monthly's website, the historic livery was moved a few blocks to accommodate residential and retail expansion in Cityway.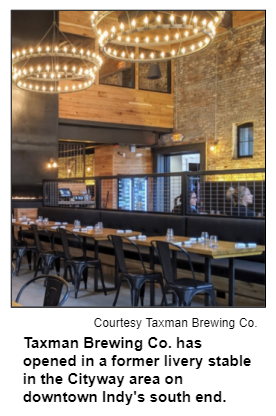 Terry also reports news about Clancy's, a popular regional hamburger chain that was based in Noblesville beginning in the mid-1960s. The original Noblesville location (which Terry says offered central Indiana's "first double drive-thru at one point") closed along with other Indiana sites a while back, but he reports Clancy's is making a comeback here during the new year. Clancy's, which was named after a cartoon cop, plans to open among the restaurants in the massive Bottleworks development on Massachusetts Avenue in downtown Indy that's expected to open in phases beginning in 2020.
Even though some old favorites are returning, others closed during 2019. They include Poe Brothers Cafeteria, a family-owned landmark in Morgan County since 1960. At one point, the Poe family owned cafeterias in both Mooresville and Martinsville, which were patronized by celebrities including Larry Bird and Bob Knight. The last Poe Brothers closed in Mooresville in September.
Another closing of a landmark was announced this month: Ike and Jonesy's, a retro-themed (1950s and '60s) pub located in downtown Indy, planned to have its "last hurrah" on New Year's Eve, according to The Indianapolis Star. In 1984, soon after the Indianapolis Colts began playing at the stadium known then as the Hoosier Dome, Ike and Jonesy's was one of the first new establishments to open nearby, kicking off the revival of the Wholesale District.
At a distinctive location elsewhere in downtown Indy, a landmark building with a pub that opened during Prohibition - and closed in 2017 - has become the home of new restaurant. Terry and Nelson will discuss The Flatiron, a restaurant that opened this year at the three-way intersection of Fort Wayne Avenue, East North Street and Pennsylvania. The Flatiron takes its name from the triangular footprint of its building, which had housed the Elbow Room since the 1930s.