Dec 23, 2020
One of his final stories for The Indianapolis Star focused on a new website full of details about more than 55 years of concerts: indianarockhistory.com
For more than 22 of those years, David Lindquist has written about pop music and culture for The Star, reviewing concerts through three name changes for the venue that opened as Deer Creek Music Center (it's now Ruoff), covering the transition from Market Square Arena to Bankers Life Fieldhouse, interviewing notables like John Mellencamp and describing the rise of Fountain Square as a nightlife destination.
In August 2011, Dave was in the audience for an outdoor concert at the Indiana State Fair, preparing to write a review, when high winds caused the stage rigging to collapse, resulting in, as he puts it, "a tragedy directly in front of me." Seven people were killed and 58 injured after a severe windstorm struck the stage and equipment just before a Sugarland concert was about to begin.
In the wake of Dave Lindquist's departure from The Star - he was among several veteran journalists who accepted buyout offers from Gannett, the newspaper's parent company - he will be Nelson's guest to share reflections about concerts, venues and celebrity Hoosiers whom he has interviewed. In addition to Mellencamp and other music icons, Dave has had several interviews with (and reported on the multi-media endeavors of) Indianapolis-based novelist John Green, the author of The Fault in Our Stars and other bestsellers.
Last month, Dave reported the death of the owner of one of the most distinctive venues for blues music in Indiana. The Slippery Noodle Inn in downtown Indy opened in 1850 and is the oldest continuously operated tavern in the state. Hal Yeagy took over "The Noodle" in the mid-1980s from his father and transformed the historic bar (which had about half a dozen names over the decades) into a blues music destination patronized by well-known figures like Peyton Manning.
Hal, who died at age 63 in November, was a Hoosier History Live guest in 2008 to discuss the colorful heritage of the venue; in addition its historic distinction as a tavern, the building at 372 S. Meridian St. is considered to be the oldest commercial structure in the Hoosier capital.
The scores of other venues where Dave Lindquist has reviewed concerts range from the lawn at White River State Park to the Murat Theatre (he calls it "an amazing place to catch a show") and Bankers Life, which opened in 1999 as Conseco Fieldhouse; its predecessor as a pro basketball arena and concert venue, Market Square Arena, was imploded in 2001. "Bankers Life Fieldhouse has a bad reputation for its acoustics, which is partially earned but partially an unfair label," he says.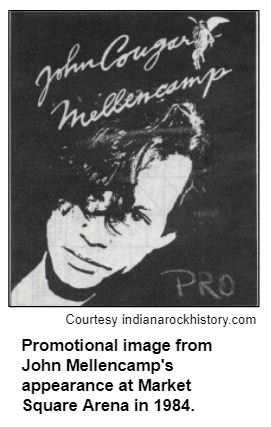 Dave plans to continue his career in entertainment journalism following his departure from The Star. During his career at the newspaper, he created and hosted "Indy Star Sessions," a live music video webcast, as well as a podcast, "Dave's Old Interview Tapes."
The Indiana Rock History project, which includes the indianarockhistory.com website, was created by a concert organizer whom Dave calls "the ultimate live music insider:" Steve Sybesma, who co-owned the concert company Sunshine Promotions for more than 25 years beginning in 1974.
The website features attendance figures, the pay for performers and ticket sales for a vast array of Indiana concerts. They include a Rolling Stones concert at IU's Assembly Hall in 1975 that Sunshine organized (the band was paid $93,000) as well as concerts that didn't involve the company, such as a performance in Muncie by guitarist Jimi Hendrix in 1968.
Referring to his coverage of Mellencamp, Dave Lindquist says, "I think it's been fascinating to watch John Mellencamp speak out on his 'blue' political leanings when he lives in a 'red' state, and many of his long-time fans are conservative." Dave plans to share some anecdotes about this during our show.
He also will discuss a jazz music history project that was the focus of one of his final stories for The Star. A documentary is in development about the life of Wes Montgomery, the legendary Indianapolis jazz guitarist who died in 1968. After headlining at nightspots on Indiana Avenue, Montgomery reaped national acclaim, won two Grammy Awards and influenced Hendricks and generations of other guitarists.