Jan 22, 2021
In his new memoir, he describes himself as a "meek" boy who dealt with a severe stutter when he was growing up on the northside of Indianapolis. So John Mutz, now 85, seemed unlikely to carve out a career as a political and civic leader.
But even before his two terms as Indiana's lieutenant governor (1981-89), he was playing a key role in many facets of the modern history of his hometown, including the birth of Unigov, the consolidation of most aspects of city and Marion County governments that was considered revolutionary in the late 1960s.
When Mutz and other emerging political leaders, including Richard Lugar, started brainstorming about ways to invigorate their hometown - which in the mid-1960s was "regarded as a sleepy backwater," as Mutz puts it - their vision was not to unify city and county governments. According to An Examined Life: The John Mutz Story (Indiana Historical Society Press, 2020), they aspired to make the Hoosier capital the home of a public, state-supported university independent of either Indiana or Purdue universities.
To explore how that effort changed direction - as well as other aspects of political and civic history - Mutz will be Nelson's guest. A lifelong Republican, Mutz made headlines in September when he became, as the Indianapolis Business Journal put it, "the first prominent Indiana Republican to publicly rebuke Trump."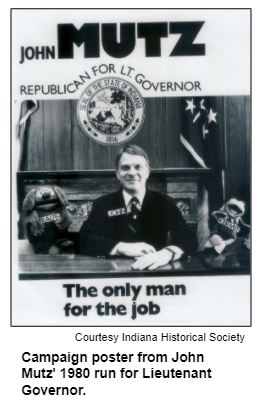 In announcing he would vote for Joe Biden in the presidential race, Mutz wrote: "I am not leaving my party. I am following my conscience."
Like Biden, Mutz has coped with a stutter that became apparent during his boyhood at Indianapolis Public School No. 84 and Broad Ripple High School, where he was a member of the class of 1953. In An Examined Life, he describes the city then as "insular" and the northside neighborhoods where he lived as lacking in diversity, noting he had only one Black classmate at Broad Ripple.
After achieving success as a political and civic leader, Mutz was asked to speak to camps and support groups for children who were, in his words, "trying to conquer their stutter." He adds, "These experiences were some of the most moving of my life."
In addition to his involvement in what became Unigov, Mutz also was among a group of leaders in the 1970s - eventually known as the City Committee - that settled on emphasizing sports as a strategy for spurring rejuvenation in downtown Indy.
Acknowledging in An Examined Life that almost all of those leaders then were men, he writes: "I am amazed that our society has still not recognized the untapped potential in women's leadership."
The Hoosier women whose leadership he praises include some who have been previous Hoosier History Live guests, such as U.S. District Court Judge Sarah Evans Barker and another former lieutenant governor, Sue Ellspermann.
He calls Lugar, who was elected mayor in 1967 when Mutz was serving in the Indiana General Assembly, a "first-class intellect." In An Examined Life, Mutz describes how they, along with other political and civic leaders, met at a private home to develop ways to invigorate Indianapolis. They had noticed that Jacksonville, Fla., and Nashville, Tenn., had consolidated their city and county governments; the move appealed to Lugar, Mutz and their colleagues because they felt Indianapolis and Marion County officials were "duplicating work or not working collaboratively."
In 1969, legislation that allowed Unigov passed in the general assembly. Among its most intense opponents, Mutz writes, was his mother-in-law, who was serving then as the Marion County recorder.
A few years later, Lugar insisted that Market Square Arena, which became the home of the Indiana Pacers, be built downtown, bucking a national trend - as well as lobbying in central Indiana - to locate sports stadiums in the suburbs. The opening of Market Square Arena in the early 1970s is considered a major early milestone in downtown's revival.
After his two terms as lieutenant governor ended in 1989, Mutz became a philanthropic and business leader. That included stints as president of the Lilly Endowment until 1993, followed by president of Public Service Indiana, which then was the state's largest electric utility.
His memoir, An Examined Life, was written in collaboration with political historian Ted Frantz, director of the Institute for Civic Leadership and Mayoral Archives at the University of Indianapolis.