Oct 18, 2019
(October 12, 2019 ) The first African-American police officer to be named a detective in Indianapolis was born into slavery in Virginia. After Benjamin Thornton became a detective in 1886 in what today is called the Indianapolis Metropolitan Police Department (IMPD), he earned acclaim across the country for his skills in tracking criminals.
In 1918, fourteen policewomen were appointed for the first time to work outside headquarters, on the streets of the Hoosier capital. (In the 1890s, the department had established a position of "police matron" whose duties focused on counseling teenage girls.) The policewomen in 1918 were needed because of a scarcity of male officers during World War I.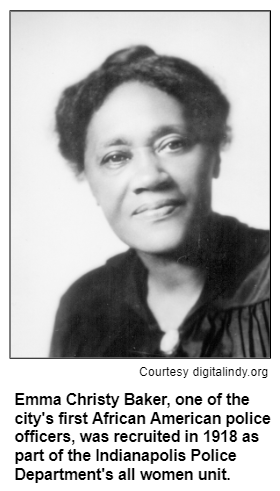 The trail-blazing women included Clara Burnside, the first captain in what was then the Indianapolis Police Department, and Emma Christy Baker, an African-American who confronted various challenges in her new position. For example, Baker was surrounded and taunted by a group of downtown pedestrians when she attempted to interrogate a suspect. Initially, none of the policewomen were allowed to carry weapons or billy clubs.
To explore these and other aspects of the history of the police department, Nelson is joined by:
Deputy Chief Mike Spears, a veteran of more than 36 years on IMPD. He served as the city's police chief for five years beginning in 2005.
Patrick Pearsey, the archivist for IMPD. A civilian member of the department since 1980, Patrick is the author of several books about various aspects of police history, including a biography of Benjamin Thornton.
And Jo Ann Moore, a retired IMPD office and archivist. For most of her 32 years on the police force, she was a street supervisor. Her husband also is a retired police officer; their son, IMPD officer David Moore, was killed in the line of duty in 2011.
Our guests have been working with the Indianapolis Public Library to put together a digital collection about the police department's history. The collection, which recently launched on the library's Digital Indy website, includes more than 1,500 mugshots, historic personnel records and crime scene information, but it is not all-inclusive.
The beginnings of IMPD can be traced to 1821 when civic leader Hervey Bates became the first Marion County sheriff. (In 2005, the Indianapolis Police Department merged with the Marion County Sheriff's Department, becoming IMPD.) Bates eventually became the owner of the Bates House Hotel, the most prestigious guest lodgings in Indianapolis during the 19th century.
In 1876, ten years before Benjamin Thornton was promoted and served as the first African-American detective on the police force, he was among a group of six men who became the first black police officers in the city.
Thornton, who was born in 1849, had fled a plantation in Virginia where he had been enslaved. After the Civil War, Thornton taught himself to read and write. He lived in several cities before settling in Indianapolis, where his early jobs included carpentry, according to research by our guest Patrick Pearsey.
During our show, Patrick also shares insights about another aspect of law enforcement history that he has researched: The response by the police to the Flood of 1913, the worst in state history. The Flood of 1913 was the focus of a Hoosier History Live show in 2013.
Other significant episodes that we explore include two strikes: a streetcar strike in 1892 in which several police officers were assaulted, and a massive protest by officers in 1977 when the city administration proposed ending the practice of allowing squad cars to be taken home. Hundreds of off-duty officers parked their cars - with their sirens blaring and red lights on - in front of police headquarters, making national news.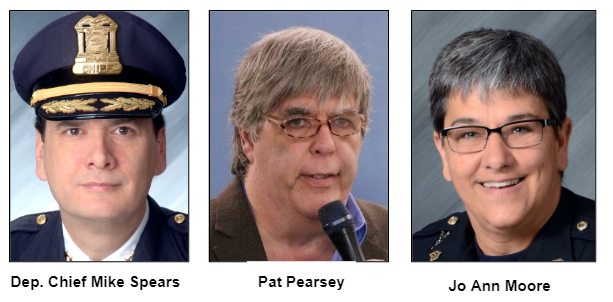 Because we have devoted previous Hoosier History Live shows to many of the most notorious crimes investigated by the Indianapolis police, we take a different approach during this program and focus on some of the most unusual cases.
They include a sensational episode in 1954 that has become known as the Battle of Elder Avenue. A man with a history of mental illness barricaded himself into a near-Westside house and shot his wife and nine police officers. More than 200 other police officers arrived on the scene and were held at bay for nearly three hours while thousands of spectators watched. All of the shooting victims survived, including our guest Patrick Pearsey's grandfather, who was the first police officer to be shot.
On a much lighter note - and with a nod to the Halloween season – we also explore a 1962 case in which the police were summoned several times to investigate reports of a poltergeist.