Jun 25, 2021
Not only did he recover from a harrowing helicopter crash that almost struck Speedway High School in 1977, he also had to cope earlier that year with the suicide of his mentor, Sid Collins, the original "Voice of the Indy 500" on the Indianapolis Motor Speedway Radio Network.
Veteran motorsports broadcaster Paul Page - who was inducted into the IMS Hall of Fame last month - will be Nelson's guest to share insights from his eventful life, including his close friendship with three-time Indy 500 winner Bobby Unser, who died in May at age 87. Unser periodically had been Paul's sidekick in the broadcast booth on both radio and TV.
Paul, 75, who semi-retired in 2016 but still can be frequently heard on the airwaves (sometimes billed as the "Voice Emeritus"), had a multi-faceted career that stretched beyond commentating about auto-racing and other sports. As a news reporter in April 1968, he was standing only a few feet from Bobby Kennedy when he made a historic speech in Indianapolis about Martin Luther King Jr.'s assassination.
These episodes - including his stint as a licensed paramedic (he participated in many emergency runs) - are described in Paul's new autobiography, Hello I'm Paul Page: It's Race Day in Indianapolis (Cardinal Publishing).
The book opens with the plummeting of the helicopter - a news chopper for WIBC Radio - in 1977 with Paul and two others aboard. Although all of them survived the crash of the aircraft onto the football field at Speedway High (the helicopter narrowly missed the school building), Paul suffered severe leg injuries and endured a long recovery.
After his return to broadcasting, he landed gigs with national TV and radio networks - including NBC Sports, ESPN and ABC Sports - and covered sports ranging from fencing to Sumo wrestling.
First and foremost, though, Paul always will be identified with motorsports broadcasting, particularly the Indy 500, which, he writes, has been his "obsession" since he first visited the Speedway as a 15-year-old in 1960.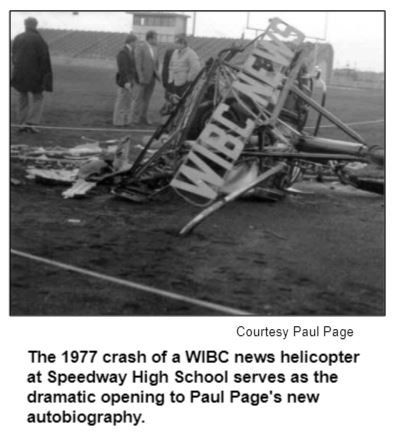 His enthusiasm has never waned, even during the 1973 race, generally considered one of the most disastrous in Indy 500 history. With massive crashes, two driver fatalities (as well as the death of a pit crew member) and weather delays that meant it took three days to complete, the 1973 race is described in Paul's new book. He also writes about his unexpected friendship that developed four decades later with the daughter of driver Swede Savage, who was among the 1973 fatalities. Paul escorted Savage's daughter, Angela, when she visited the Speedway in 2014, including to the site of her father's horrific crash.
During our show, Paul will discuss the 1973 race as well as his interviews with iconic drivers, including four-time winner A.J. Foyt, who is renowned for being, as Paul puts it, "intimidating." But he also describes episodes - including an incident that unfolded at Foyt's ranch in Texas where Paul was a houseguest - that demonstrate the driver's compassionate side.
In 1977, Paul and a colleague discovered the body of his mentor, Sid Collins, who had taken his own life. During the early 1950s, Collins had developed the concept for the IMS Radio Network and was able to convince long-time Speedway owner Tony Hulman of its merit.
In his book, Paul praises Hulman (1901-1977) for his kindness. He also celebrates the inclusive spirit of the Indy 500:
"It's a place for everyone: the wealthiest sponsors, owners and stars; the middle-class ticket holders, and the blue-collar fans in the infield."