Nov 6, 2020
We Hoosiers are known to be self-effacing, so there hasn't been much inclination to toot our own horn about the state's heritage of musical instrument making.
Consider this, though: the largest maker of drums and percussion equipment in the world during the early 1900s was located in Indianapolis.
And for most of the 20th century, Elkhart was known as the "musical instrument capital" of the country. Elkhart-based companies in the music instrument business include C.G. Conn, Armstrong Flutes, Bach Brass, Selmer Woodwinds, Buescher Band Instruments, Gemeinhardt Flutes and others.
For nearly 30 years beginning in 1903, Leedy Manufacturing Company in Indianapolis produced drum and percussion instruments. By the time the company was sold to C.G. Conn and moved to Elkhart in 1930, Leedy had a line of more than 900 products and was known for many "firsts" in percussion design. The company held more than 20 patents, including one for the vibraphone, which now is used in jazz bands.
Two guests will share details about the rich heritage of musical instrument-making in the Hoosier state:
David Steele, an Indianapolis businessman and civic leader who owns The Steele Group, a management consulting business. A lifelong drummer, David is leading a crusade to have a historic marker placed on the former site of Leedy's factory on the near-southside of Indy.
And Jim Catalano of Elkhart, a professional musician who is the retired marketing director for Ludwig Drum Company, which has had multiple changes in its corporate ownership. He also is an adjunct instructor at the University of Notre Dame and St. Mary's College.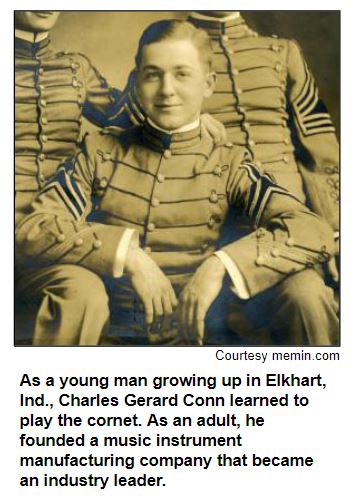 According to Jim, C.G. Conn has the most storied history of the Elkhart-based musical instrument businesses. Founded in 1876 by Charles Gerard Conn, who went on to win election as mayor of Elkhart and eventually as a U.S. congressman, the company became the largest maker of band instruments in the world.
Because of C.G. Conn's success, other band instrument companies relocated to Elkhart. They came "to take advantage of the training and expertise that workers in Elkhart had acquired," Jim notes.
The Selmer Company, which began in Elkhart in 1920, initially made only flutes and clarinets. But in 1965, Selmer bought Bach Brass, which had been based in Mount Vernon, N.Y. Today, according to Jim Catalano, it is the country's largest maker of professional trumpets and trombones.
The drum-making heritage in Indianapolis had its origins with Ulysses G. Leedy (1867-1931), who toured as a percussionist across the country in the 1890s. He began making drum and percussion instruments in his apartment before starting his factory, according to David Steele.
In 1921, Leedy Manufacturing created an enormous, distinctive bass drum for the Purdue University All-American Marching Band. The original drum - which, when finished, was displayed in the rotunda of the Indiana State Capitol before being transported to West Lafayette - is the eye-catching instrument still used today by Purdue's marching band
In addition to drums and vibraphones, Leedy made tympani, xylophones and other percussion instruments at its Indianapolis factory. The 80,000-square-foot building, which was touted as "The World's Largest Drum Factory" during the early 1900s, still stands at Palmer Street and Barth Avenue; today, it houses Sense Charter School.
In addition to acquiring Leedy and moving its operations to Elkhart, Conn indirectly launched Buescher Band Instruments; its founder made saxophones at Conn before starting his own company in 1894. By 1901, Buescher also was making cornets.
German immigrant Karl Gemeinhardt came to Elkhart in 1928 to make flutes for Selmer, according to Jim Catalano. In the late 1940s, Gemeinhardt left to establish a flute company under his own name to compete with Selmer, Conn and Armstrong. Today, the company makes flutes and piccolos for student musicians as well as professionals.
By the 1970s, about 40 percent of the world's band instruments were being made in Elkhart, according to the Indiana Historical Bureau. The annual Elkhart Jazz Festival was started more than 30 years ago in part as an outgrowth of the city's instrument-making heritage.