Jan 29, 2021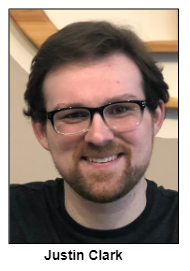 Later this year, a historic marker is planned for the birthplace in Brazil, Ind., of Jimmy Hoffa, the controversial labor leader whose disappearance in 1975 remains one of the country's major missing persons cases.
Hoffa, the powerful, long-time president of the International Brotherhood of the Teamsters, met with Rev. Martin Luther King Jr. in 1965 to make a donation to social justice work. Even so, Hoffa had "a complicated relationship with the civil rights movement," according to our guest, Justin Clark, digital initiatives director for the Indiana Historical Bureau.
For the historical bureau, a division of the Indiana State Library, Justin has produced and written a video essay about Hoffa's meeting with Rev. King, as well as other aspects of the life of the labor leader, who was convicted of jury tampering in 1964 and served nearly four years in prison. He vanished after going to a restaurant in Detroit to meet with men connected to organized crime. Despite extensive investigations for several years, Hoffa's body never has been found; he was declared legally dead in 1982.
Our guest Justin Clark, who has researched labor history, notes that during Hoffa's 14 years as president of the Teamsters, the union's membership greatly expanded. Hoffa crusaded to improve "the lives and working conditions of its members," Justin says.
Born in 1913, Hoffa grew up in a hard-scrabble family of four children in Brazil. When Hoffa was 7 years old, his father died, so his mother took a series of jobs, including as a cook in a local restaurant and as a laundry service operator. In 1924, the Hoffas moved to Detroit; he dropped out of school after the eighth grade to seek full-time work.
Although Hoffa primarily was based out of Detroit for the rest of his life, he periodically returned to his Indiana hometown, sometimes to support community endeavors. During the early 1960s, the Teamsters made a significant donation to Clay County Hospital.
His meeting with Rev. King also involved a donation, although the session seemed to be an "unlikely pairing" of two newsmakers, Justin notes. "One [was] a slick-haired, brash and controversial labor leader, and the other [was] a measured, eloquent and inspirational pastor."
During the meeting, Hoffa handed Rev. King a $25,000 check to support efforts for racial equality. Even so, Hoffa's history with civil rights was decidedly uneven. In the late 1950s, newspapers reported that he had discriminated against African-Americans in a local union chapter, according to Justin's research. In 1963, Hoffa did not support the March on Washington in which Rev. King was the final speaker, delivering his historic "I have a dream" speech.