Oct 16, 2020
Nearly 200 years before the era of ubiquitous cell-phone "selfies" - and decades before the Brownie camera introduced snapshots to the mass consumer market - photographers were capturing images across Indiana.
Clear back in the 1820s, a teenager in New Harmony was experimenting with "solar picture drawings." In the early 1840s, a professor at Indiana University became Indiana's earliest documented photographer.
For this exploration of photographers and early photography studios beginning in the early 19th century, Nelson will be joined by photo historian Joan Hostetler, founder of the Indiana Album. The organization maintains the Indiana Photographers Project, a database that records biographical and studio information about photographers who have worked in the state from the early days of photography to the present.
The two longest-operating studios in Indiana, according to Joan, are the McDonald Studio of South Bend, which was founded in 1861, and the W.H. Bass Photo Co., which is based in Indianapolis and has roots dating to 1897. Both studios are still operating today.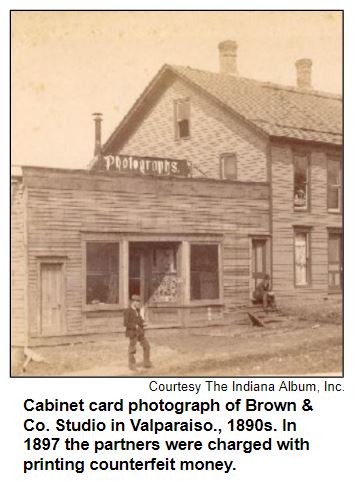 During our show, Joan will discuss itinerant photographers during the 1800s who traveled across the state in wagons, bringing along tents. Other itinerant photographers traveled aboard skylight boats on the Ohio River.
We also will explore the under-recognized role of women in photography. "Often wives and daughters [of photographers] were vital to the business," Joan says. "But they were not recognized, or given just a nod with a studio name such as 'Wright & Wife.' "
In 1828, New Harmony teenager James Miles Wattles experimented with what were then called "solar picture drawings." Joan notes this was a decade before photography was widely introduced.
According to Joan, Indiana's earliest documented photographer was Theophilus Wylie, an early daguerreotypist and half-cousin to Andrew Wylie, the first president of Indiana University. As an IU science professor, Theophilus Wylie (1810-1895) began making daguerreotypes in 1841. A daguerreotype is an early photographic process produced on silver-plated copper.
The Indiana Photographers Project database helps historians, genealogists and archivists with their accuracy and precision as they date historic photographs. The data also helps determine copyrights and recognize the accomplishments of Hoosier photographers.
Some photo facts:
The Indiana Album plans to publish a book or online directory about photographers who have worked in the state and their studios. The goal is to publish within the next few years.
Joan Hostetler, our guest, and Nelson, our host, co-authored Indianapolis Then and Now (Pavilion Books, revised edition 2015), a visual history book about the Hoosier capital.
One of the earliest known streetscape photos of Indianapolis (see below) was taken in about 1857. A copy of the historic photo is featured in The Encyclopedia of Indianapolis, Indianapolis Then and Now and other city history books.