Nov 27, 2020
Small cities and towns in Indiana often seem tranquil, but they periodically have been the settings for murders that made national headlines. They have also been the birthplaces of suspected killers, including a notorious native of Elwood dubbed "Gun Girl" by the national press during the Great Depression.
For one of our periodic shows exploring true crimes, Hoosier History Live will delve into several sensational murder cases that drew national attention to the state between 1869 and 1950. Among the cases will be some that illuminate aspects of social history, including the use of capital punishment, the insanity defense (which frequently was used by defense attorneys during the 19th century), and attitudes about women on trial for first-degree murder.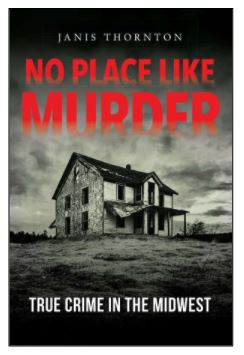 The historic crimes are among those included in No Place Like Murder (I.U. Press), a new book by Janis Thornton, an author of true crime and town history books who is based in Tipton, Ind. Janis, who has researched the murders and even visited the gravesites of several of the victims, will be Nelson's guest to explore cases involving:
The first two men to die in the electric chair in Indiana. On the same day in 1914, John Chirka and Harry Rasico were executed in Michigan City at the Indiana State Prison. Although their crimes were unrelated, both men were convicted of murdering their wives - and, in Rasico's case, his toddler son as well. The murders were committed in 1913, the same year the state legislature voted to have the electric chair replace hanging at the state prison. No Place Like Murder describes how Indiana's governor, Samuel Ralston, opposed the death penalty personally but did not interfere with the executions.
The 15-year-old "Gun Girl," who in 1930 dropped out of school in Elwood to go looking for adventure. Armed with pistols, Isabelle Messmer became implicated in crimes from Pennsylvania to Texas, where the pitcher for a semi-pro baseball team was found shot to death in a tourist cabin.
The first woman to be tried for murder in Clinton County. In 1898, Frankfort resident Sarah Shenkenberger was accused of poisoning her daughter-in-law, Belle Shenkenberger, who (along with her 2-year-old son) had been living with her in-laws while her husband was serving in the Navy.
Most of the murderers and their victims in the cases we will explore were private citizens. An exception involves a sensational killing in 1881 when the controversial mayor of Kokomo was fatally shot during what may have been a bungled burglary.
Mayor Henry Cole was gunned down in a flour mill by a posse of Kokomo business and public officials. In No Place Like Murder, Janis Thornton poses the question of whether Cole was involved in a crime or was "the victim of an assassination conspiracy." In response to the mystery, she adds, "Local history buffs are still scratching their heads."
In connection with one of her visual history books about Indiana towns and counties, Images of America: Tipton County (Arcadia Publishing, 2012), Janis has been a previous Hoosier History Live guest. She also is the author of Too Good a Girl (Life Sentences Publishing, 2018), which explores the mysterious death of her Tipton high school classmate.