Jul 12, 2019
(July 6, 2019) Because of the attention focused on the Electoral College in the 2016 presidential race - in which the winner did not gain the most popular votes - it may not be surprising that a similar situation unfolded in 1888.
Can you imagine a scenario, though, in which neither major party's presidential candidate actively campaigned?
That's what happened in 1892 - in sharp distinction to the current situation in which intense campaigning is in full swing more than 18 months before voters go to the polls.
Both the 1888 and 1892 campaigns featured Benjamin Harrison of Indianapolis as the Republican candidate for the White House. And both unfolded during an era - stretching from the 1870s through the 1920s - in which Indiana was regarded nationally as a "swing state" in presidential elections.
As evidence: Harrison did not carry his home state in 1892 (a majority of Indiana voters preferred his Democratic opponent, Grover Cleveland), although Harrison, a former U.S. senator from Indiana, won the Hoosier State in 1888. His "front porch campaign" that year - based out of his Italianate home that is now part of the Benjamin Harrison Presidential Site at 1200 N. Delaware St. - resulted in scores of souvenir hunters who tore off pieces of the property's wooden fence. Caroline Scott Harrison, who would become the nation's first lady, is said to have remarked: "If we don't go to the White House, we'll go to the poor house, with all of the repairs we'll have to make."
To share insights about colorful and intriguing aspects of Harrison's presidential campaigns, Nelson is joined by Ray Boomhower of the Indiana Historical Society, the author of the new biography Mr. President: A Life of Benjamin Harrison (IHS Press).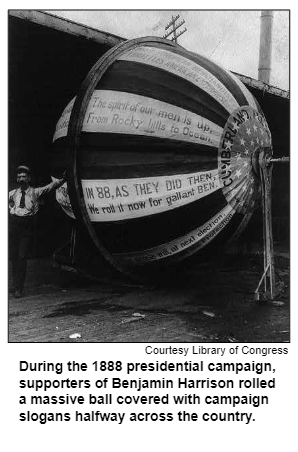 Caroline Scott Harrison's battle with tuberculosis - and eventual death in the White House two weeks before the 1892 election - explains why neither candidate campaigned that election cycle. Harrison announced he would not leave his wife's bedside. Out of respect, Cleveland, the eventual winner, also refrained from campaigning.
In contrast, the 1888 campaign - which also featured Harrison against Cleveland - was a lively affair. One of the more memorable publicity ploys: Harrison's supporters built a massive, steel-rigged, canvas ball, covered it with campaign slogans and travelled over 5,000 miles with it to the candidate's Indianapolis home.
Harrison achieved the presidency that year by winning the Electoral College (with 233 votes to 168 for Cleveland), although he lost the popular vote. That was the third of five times in American history in which the loser of the popular vote won the Electoral College - and, as a result, the White House.
Of the six vice presidents who have been elected from Indiana, four of them achieved office during the era when Indiana was considered a swing state in national elections and was therefore courted by both parties. The Hoosier vice presidents during that era include two Democrats - Thomas Hendricks (who was in office for one year only, 1885) and Thomas R. Marshall (who served from 1913-1921) - and two Republicans, Schulyer Colfax (veep from 1869-1873) and Charles Fairbanks(1905-1909).
Ray and Nelson discuss the factors that resulted in Indiana's swing state reputation then, in contrast to its general tendency to support Republicans in national elections in recent decades.
In the 1888 presidential campaign, Benjamin Harrison gave "more than 80 extemporaneous talks to more than 300,000 visitors to Indianapolis" between early July and late October, according to Ray's biography. Marching bands often escorted the delegations of visitors from a city park to the Harrison home on North Delaware Street. Delegations included Union veterans of the Civil War, African-American supporters and railroad workers.
Four years later, some key Republican Party leaders declined to help Harrison. From the start of his presidency, Ray writes, Harrison "stood steadfast … in making sure that qualified individuals - not party stooges - received appointments to key government positions."
Because of Caroline Scott Harrison's illness, the 1892 presidential contest "paled in comparison in every way with the one four years before," according to Mr. President. After she died on Oct. 25, grief-stricken President Harrison accompanied his wife to Indianapolis for her burial at Crown Hill Cemetery. Two weeks later, he lost his bid for re-election, with Cleveland defeating him both in the popular vote and in the Electoral College.