Aug 24, 2020
Like an almost-forgotten Hollywood classic enjoying an unexpected revival of interest, drive-in movie theaters are in the spotlight again with the Covid pandemic-related resurgence of outdoor film showings.
As if on cue, Hoosier History Live will explore the rise and fall of drive-in theaters, which boomed in popularity in the years after World War II. During the 1950s, more than 120 drive-ins flourished across Indiana, according to driveinmovie.com.
The Westlake Drive-in on the west side of Indianapolis, one of the state's most popular venues for outdoor movies, typically was jammed with more than 1,200 cars per night, according to a retrospective story on WRTV-Channel 6. In contrast, only 75 vehicles were counted at the Westlake when it closed in 1982. It was replaced on its site at West 10th Street and High School Road by a healthcare facility.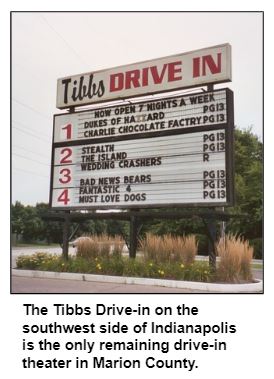 According to several accounts, about 20 drive-in movie theaters have been operating across Indiana during recent years. They include the Tibbs Drive-in on the southwest side of Indy, the only remaining one in Marion County - unless you count temporary venues for outdoor movies that have been popping up to accommodate public health concerns related to the Covid-19 pandemic.
For our show, Nelson's guests will include a movie preservationist and collector who is among those converting from indoor to outdoor showings. Film historian Eric Grayson has shifted from indoor screenings of vintage movies at Garfield Park to "drive-in style" events for at least the next few months at the park on the south side Indianapolis.
With Eric joining Nelson, we will explore the factors that sparked the heyday of drive-in theaters, which featured large outdoor screens, projection booths, concession stands and, in some cases, playgrounds, picnic tables and other enticements for movie-goers.
We also will explore the genres of movies that were effective at drive- theaters - the bygone Twin-Aire Drive-in on the southeast side of Indy periodically promoted horror film marathons that appealed to cars crammed with teenagers - and the genres that did not work as well.
We also will delve into the factors that spelled doom for so many drive-ins. They included rising real estate values in cities that made summer-only land usage impractical; drive-in theaters that have endured tend to be in small towns or rural areas.
According to an article published by the Smithsonian Magazine, even in the heyday of drive-ins during the 1950s movie studios preferred to slot their top first-run releases into indoor cinemas because of scheduling flexibility that resulted in more ticket sales. An indoor theater, the article notes, "could show one film five or six times a day instead of only at night ... Drive-ins were left to show B movies."
But not always. Many drive-ins specialized in family-oriented fare. Parents often preferred drive-ins because of the ease of bringing young children (and sometimes even their dogs) in their cars. At the other extreme, some outdoor theaters went the X-rated route during their waning years.
At Garfield Park, showings of vintage movies from the collection of our guest Eric Grayson will include Seventh Voyage of Sinbad (1958) on Aug. 22, This Island Earth (1955) on Sept. 19 and others; more details are available online.
Outdoor movie theaters in Indiana that have continued to endure include the Centerbrook Drive-in in Martinsville and the Skyline Drive-in in Shelbyville.
Those that bit the dust include the Shadeland Drive-in in Indianapolis, which, according to an article on Historic Indianapolis, closed in 1985 after a run of nearly 30 years.