May 15, 2020
In 1967, Esquire magazine published a cover story with the tagline: "This man ought to be the next president of the United States."
The reference was to J. Irwin Miller the long-time president of Cummins Engine Company - today, Cummins Inc. - whose impact extended far beyond the business world, both locally in his hometown of Columbus, Ind., and nationally, where he played a significant role in the civil rights movement.
As a recently released biography of Miller (1909-2004) puts it, he led Cummins "from its roots as a small, family business to an international Fortune 500 company and transformed Columbus into a gem of mid-century modern architecture."
Nancy Kriplen the Indianapolis-based author of a recently released biography, J. Irwin Miller: The Shaping of an American Town (I.U. Press), will be Nelson's guest to share insights about the influential civic leader who lured prominent mid-century modern architects to Columbus to design public and private buildings ranging from churches, schools and banks to houses. Among the architectural luminaries: Eliel Saarinen, his son Eero Saarinen (designer of the Gateway Arch in St. Louis), I.M. Pei and Harry Weese.
The distinctive residence that Eero Saarinen designed in the 1950s for Miller's family - featuring a sunken "conversation pit" - has, as Nancy notes in her biography, been listed as "one of the five most significant mid-century modern houses" in the country.
Now a museum known as the Miller House, it is a National Historic Landmark owned by Newfields.
J. Irwin Miller, a Stradivarius-playing arts enthusiast, and his wife, Xenia, who eventually became a collector of oil paintings, had deep Hoosier roots. Miller grew up in a Civil War-era house in downtown Columbus built by his great-grandfather, banker Joseph Irwin.
That spacious house - where, at one point, four generations of the Irwin-Miller-Sweeney family were in residence - is now a bed-and-breakfast, the Inn at Irwin Gardens. It is known for its lavish, Italianate gardens
As a boy, J. Irwin Miller developed a lifelong friendship with Clessie Cummins, who started out as the family's chauffeur but then, using what Nancy describes as his "mechanical genius," pushed for the manufacturing of diesel engines that sparked the success of Cummins Engine Company.
In civil rights, Miller's work with presidents John F. Kennedy and Lyndon B. Johnson included chairing a meeting in 1963 at the White House of a special commission on race and religion.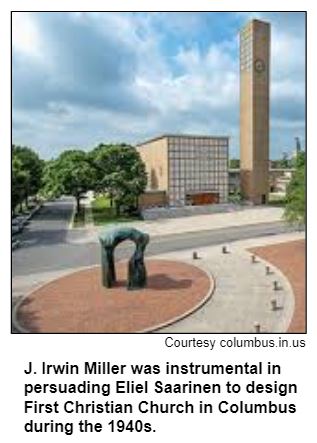 Nancy's biography begins with a highly publicized trip to Columbus in 1967 by Lady Bird Johnson to visit some of the distinctive buildings that make Columbus "an architectural boomtown."
During the 1960s, J. Irwin Miller served as the first board president of Christian Theological Seminary in Indianapolis when it became independent from Butler University. He also was the first non-clergy to serve as president of the National Council of Churches.
In Columbus, Miller was instrumental in persuading Finnish-born Eliel Saarinen to design First Christian Church during the 1940s. In 1964, Eero Saarinen designed North Christian Church, which sometimes has been called "the oil can church" because of the 192-foot, needle-like spire that juts from its distinctive roof. Hoosier History Live explored mid-century modern architecture in Columbus and the city's history in a show in 2016.
The grounds at North Christian Church were designed by noted landscape architect Dan Kiley; he also designed the gardens at the Miller House. North Christian Church was the setting for Miller's memorial service when he died at age 95 in 2004.
In her book, Nancy notes that none of the five children of J. Irwin and Xenia Miller live in Columbus today, although their youngest son, Will Miller, continues to be involved with several local institutions that were important to his parents.