Jan 12, 2019
(January 5, 2019) To kick off the 11th year of Hoosier History Live with flair, we spotlight the impact of an Indiana architectural trail-blazer who had both pizzazz and spunk.
Beginning in the 1950s, when women home builders were a rarity, Avriel Shull designed and built mid-century modern homes in Carmel, Indianapolis and other cities. National periodicals eventually distributed the house plans of "Avriel" (she often was referred to by her first name only), with orders for her home patterns continuing long after she died in her mid-40s in 1976.
"Years before branding became an essential component of business success, Avriel was both a well-known company brand and a synonym for modern design," according to our guest, historian, researcher and preservationist Connie Zeigler, owner of C. Resources. Connie prepared the nomination for the National Register of Historic Places of the Thornhurst subdivision in Carmel, where Avriel designed 21 mid-century modern homes.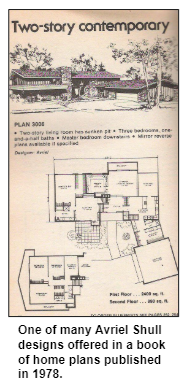 Just as Avriel's homes created something of a stir - with their floor-to-ceiling windows, sliding glass doors, vertical cedar siding and walled patios during an era noted for basic ranch houses - red-haired, charismatic Avriel drew attention on a personal level as well.
In 1951, Life magazine devoted a multi-page photo spread to her splashy wedding, during which Avriel entered amid a release of white birds; at 2 a.m., she lifted her white gown to perform the can-can.
Her husband was one of Indiana's best-known journalists of the era. An irreverent TV columnist for the Indianapolis News (and, before that, for the Indianapolis Times), R.K. Shull also answered reader questions in "Shull's Mailbag," which appeared in 260 newspapers across the country.
None of that overshadowed his wife, who, as Connie has written, "lived life at breakneck speed."
According to Connie, Avriel "often laid the stone herself on the houses she designed." As for an enduring architectural legacy, Connie notes that "At least 50, and probably more, of her houses are still standing in the Indianapolis area."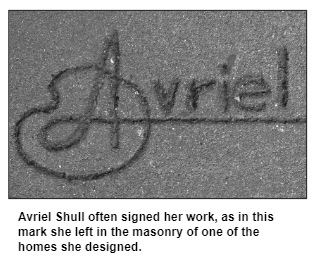 But Avriel was not an architect. In fact, although she studied at what was then the John Herron Art Institute during the 1940s, Avriel never earned a college degree.
In all of her Thornhurst subdivision houses - which were the focus of a 2017 home tour organized by the Carmel Clay Historical Society - Avriel featured modern fireplaces, some of which she built herself.
In a cover story about Avriel for a 2012 issue of Traces magazine published by the Indiana Historical Society, Connie notes that many of the fireplaces "had two-sided hearths opening into two different rooms."
Connie writes that for home interiors, Avriel chose vinyl-topped stools, tripod-legged lamps and sofas with hairpin legs, "unlike the ruffled sofas and overstuffed chairs of earlier eras." In many of the bathrooms, she painted murals - and added an elaborate "Avriel" as a signature to her work.
By the mid-1960s, Avriel landed contracts to design homes in upscale neighborhoods on the northside of Indianapolis including Avalon Hills, Crow's Nest, Meridian Hills and Sunset Lane. In the final years before her death shortly before her 45th birthday, Avriel was building houses in Brownsburg, Kokomo, Westfield and Evansville.