Jul 17, 2020
Ever since the selection of the original Mercury 7 astronauts in 1959 marked the dawn of the U.S. space program, it's been well known that a significant percentage of NASA astronauts, mission specialists and engineers have spent portions of their lives in Indiana. After all, Purdue University has long been nicknamed "Mother of Astronauts."
Less well known, however, is Indiana's connection to the dehydrated food that has been the chow for many of the U.S. space program's intrepid cosmic explorers.
And then there's the Hoosier state's link to the physician who treated several astronauts who became household names during the 1960s, including Virgil "Gus" Grissom, John Glenn and Neil Armstrong.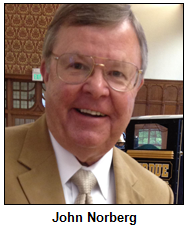 Hoosier History Live will spotlight these unexpected links just as space travel is receiving renewed attention with the recent launch of a capsule by SpaceX, the rocket company founded by Elon Musk that took two NASA astronauts to the International Space Station. The mission "ended a nine-year launch drought for NASA, the longest such hiatus in its history," according to a USA Today report. (NASA had been relying on Russian spaceships to take U.S. astronauts to and from the space station).
Note to listeners who may be day-dreaming about blasting off as a civilian space traveler: Your prep could be overseen by a Purdue alum who works with civilians likely to become the first space tourists.
Our guest, Purdue historian John Norberg of Lafayette, will share details about various intriguing - but seldom highlighted - links between Indiana and the space program. A retired columnist for the Lafayette Journal & Courier who has been inducted into the Indiana Journalism Hall of Fame, John has been a guest on previous shows, including those that explored Astronauts and Purdue and Amelia Earhart's connections to Indiana.
So what's the skinny on the astronauts' food?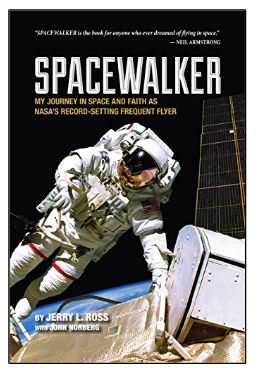 A former Indiana farm girl who studied home economics at Purdue supervised the packaging of food consumed by shuttle crews for several years, among other responsibilities. Karen Pearson Ross (Purdue class of '71) grew up on a farm in Sheridan, Ind., and eventually married popular NASA astronaut Jerry Ross.
Her husband liked to quip that he was the only one among his colleagues who enjoyed "home cooking" while in space. Both Karen and Jerry Ross, who grew up in Crown Point, Ind., are now retired. Our guest John Norberg collaborated with Jerry Ross on his autobiography, Spacewalker: My Journey in Space and Faith as NASA's Record-Setting Frequent Flier (Purdue University Press, 2013).
In addition to sharing details about Karen Ross' cosmic culinary work, John Norberg will discuss Dr. Steve Beering, the former, long-time Purdue president (1983-2000) who died in April at age 87. Beginning in the early 1960s, Dr. Beering was the physician for Grissom, a native of Mitchell, Ind., Glenn, Alan Shepard and others among the original Mercury 7 astronauts.
Dr. Beering, who was on the medical staff at Lackland Air Force Base in Texas then, later gave Neil Armstrong his first physical for the astronaut program. Dr. Beering went on to become the dean of the IU School of Medicine before serving as Purdue's president.
Currently, Purdue alum Beth Moses (class of '92) is an astronaut instructor training people who will become the first space tourists. Although she works for Virgin Galactic, the company that hopes to send tourists into space, Beth Moses officially is classified as a NASA astronaut, according to John Norberg. She traveled into space on a Virgin Galactic test flight in 2019.