Apr 19, 2019
(April 13, 2019) It may seem remarkable that his abstract artwork often reflected harmony and balance, given the struggles he faced in establishing himself as a prominent artist.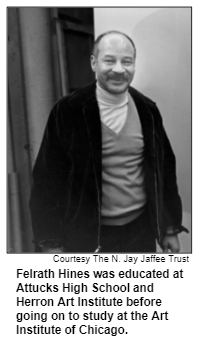 Indianapolis native Felrath Hines, who became the first African-American conservator of the Smithsonian National Portrait Gallery, worked during the Great Depression in a segregated company of the Civilian Conservation Corps (CCC) based in Bloomington. Before that, he graduated from Attucks High School in 1931; he was a member of the first four-year class at Attucks, which was created in the late 1920s as a separate high school for black students in Indianapolis. After his stint as a laborer with the CCC, Hines worked as a dining car waiter on railroad cars at night while attending the Art Institute of Chicago during the day.
Today, paintings by Hines (1913-1993) are exhibited at museums across the country, including the National Museum of African American History and Culture in Washington D.C. and the Indianapolis Museum of Art at Newfields. For several years, Hines worked with Georgia O'Keeffe as her private paintings restorer.
We explore the life and impact of Hines - as well as other artists - with two studio guests:
As a 13-year-old boy, Hines received scholarships to attend special Saturday classes at what was then called the Herron Art Institute. Despite segregation in Indianapolis schools and public places, Herron had established an open door policy at its inception in 1903 and did not discriminate on the basis of race, according to Rachel's book. At Herron, young Hines studied painting and drawing.
During his career, Hines fought against, as Rachel puts it, "being pigeonholed as a black artist" - even when turning down opportunities for his paintings to be included in exhibits of African American artwork hurt his career.
During our show, guest Mark Ruschman also discusses other notable painters, including two who attended Manual High School in Indianapolis during the early 1900s: William Edouard Scott (1884-1964) and John Wesley Hardrick (1891-1968). At Manual, both Scott and Hardrick studied under famous Hoosier Group painter Otto Stark.
Like Hines, Hardrick went on to attend Herron. Unlike Hines, whose career flourished after he focused on abstract art, Hardrick painted landscapes, still lifes and portraits. The Indiana State Museum and the Indianapolis Museum of Art own paintings by Hardrick, who lived in Indianapolis all of his life.
In contrast, Hines was based during the 1960s in New York City, where he befriended well-known jazz musicians like Billy Strayhorn. In 1972, Hines moved to the Washington D.C. area to become the conservator of the National Portrait Gallery.